The Micro-Entrepreneur of the Year Competition. Quick win to promote microfinance in your country. 
Join the webinar on Wednesday 29 March 2023 at 10.00 CET during which MFC with its two members: Georgian Microfinance Association and Adie will share the success
of the Micro-Entrepreneur of the Year Competition. The main idea behind the the Micro-Entrepreneur of the Year Competition is to recognize and award those microbusinesses that have offered innovative solutions, have distinct social orientation or provide environmentally sound products and services and represent businesses with strong roots in their local community.  The organization of such contest not only helps to promote micro-entrepreneurship, but is a powerful, yet resourceless opportunity to build visibility of the microfinance sector. It raises awareness about the importance of entrepreneurship in the socio-economic development of the country, raises profile of the microfinance institutions as providers of business opportunities in the country and reduces inequalities and cares about environmental sustainability. 
Microfinance institutions are particularly well positioned in promoting micro-entrepreneurship, as they provide their clients with basic financial services and often support business education. Despite their significant role in reducing unemployment and livelihood creation, microenterprises are typically underpromoted and undervalued. We need a more pro-active approach to promote micro-entrepreneurship by all stakeholders and especially youth, women, green and social entrepreneurship.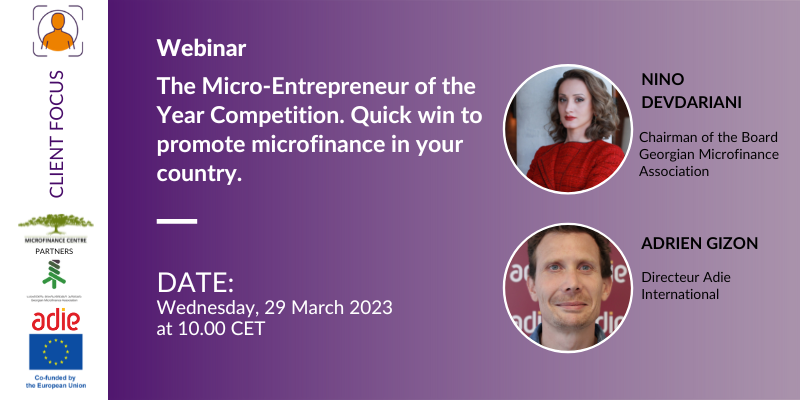 Register if you would like to learn more about first-hand experience about the impact and contribution to sector promotion. We will also share advice and answer your burning questions!