2022 was a busy year for MFC! We attracted 12 new members to our network. For our members and partners, our team organized:
          ·           2  conferences: MFC Annual Conference in Istanbul with 405                                        participants, 10 sessions and talks, and Social Finance Vibe 2022:                                Towards a Resilient Future with 262 participants, 26 sessions and talks
          ·        1 Policy Forum in Romania, co-organized with Romanian Association of                   Microfinance Institutions (MFA)
           ·        34 webinars
           ·        5 on-site trainings (within Easi and SIFTA programs)
           ·        6 Code of Good Conduct Technical Assistance (TA)
      MFC has been successfully advocating for the benefit of members. Thanks to the advocacy work conducted with European Parliament, Commissioner Cabinet, DG Near and DG Employment, new opportunities were created for Western Balkans microfinance. This action will directly result in concrete funding instruments to be deployed in 2023 and dedicated Technical Assistance facility for Western Balkans. What is more, in 2022 our team organized and took part in 270 individual meetings with partners and stakeholders, including 34 meetings with European Commission representatives. Together with EMN, we issued 2 letters on supporting programs to social economy entities in accessing countries addressed to Commissioner Nicolas Schmit and Commissioner Paolo Gentiloni. Another, joint letter of MFC, FEBEA, EVPA and EMN on Sustainable Finance Taxonomy was issued to Members of the European Parliament. Additionally, MFC worked on digitalization policy paper and  in partnership with EMN on 2 policy papers: green microfinance and social economy. We engaged our members and partners in 7 Action Groups, including one in partnership with Mastercard and one in partnership with UNHCR.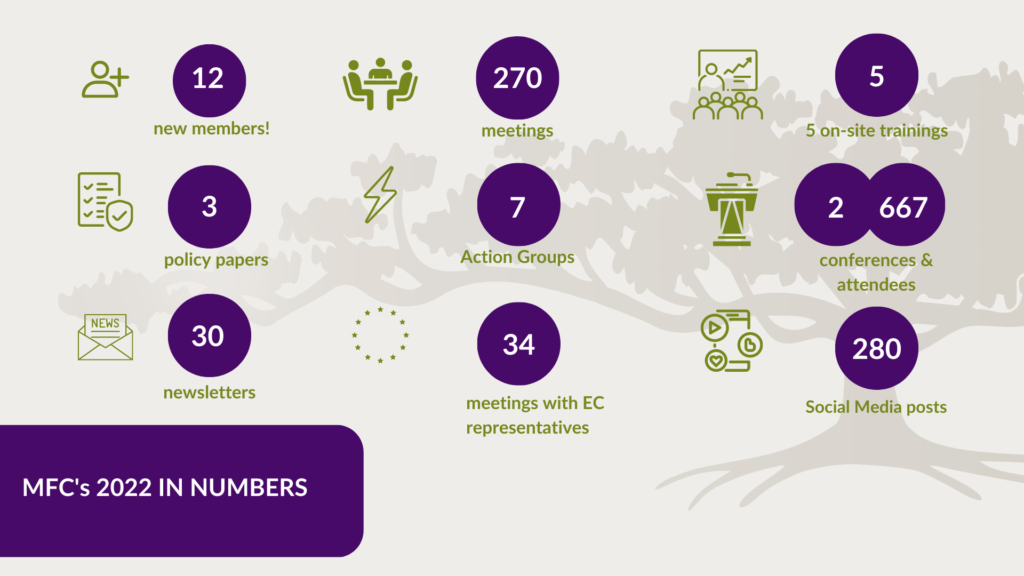 On top of all this, we kept informing and spreading the news:
· 2 brief papers on microfinance trends and MFIs capacity building needs
· 1 mapping of microfinance sector, 1 mapping of social economy actors
· 50 website updates
· 280 social media posts:
o 105 LinkedIn
o 76 Facebook
o 101 Twitter
· 26 newsletters
· 4 personal CEO updates
Last but not least, to keep our administration costs low and have more resources to serve our members and partners, we moved to the new, smaller office. More exciting activities coming this year! Stay tuned for the updates about SIFTA program, upcoming conference in Montenegro and other initiatives that we encourage you to join.