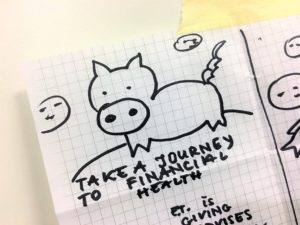 The workshop is part of the project Taking Financial Health Tools to the Customer in Eastern Europe and Central Asia implemented by MFC in cooperation with Center for Financial Inclusion at Accion. The project aims at creating digital tool that promotes the measurement and improvement of people's financial health and will be used by FIs and NGOs in their interactions with clients.
Workshop objectives:
– To ideate a draft prototype of digital tool for financial health improvement, aligned with the needs of FIs and NGOs;
– To identify the knowledge and skills gaps for further prototype development and to identify the next steps to address these gaps.
The workshop was attended by representatives from Center for Financial Inclusion at Accion, Good.bee, Opportunity Bank Serbia, Finca Armenia, Rural Development Foundation, Foundation for Innovation and Knowledge , Citizens Advices Bureau.  The work proces was supported by behavioral scientists from Irrational Labs & Common Cents Lab.
During 2-days workshops we discussed who should be the target group of the digital tool, what are the needs of those people, what are the needs of FIs and NGOs, what are potential benefits for the target groups, FIs, NGOs and we drew draft prototype to address those needs.
Partner:

Discover photos made by participants during the workshop.