We are delighted to welcome ASPEKT as a new member of the Microfinance Network. Their expertise will prove an essential contribution to the membership's efforts towards digitalization and we look forward to our collaborations!
ASPEKT is Software Development and IT Consulting Company delivering innovative software solutions, comprised under the Aspekt Product Suite specialized for financial industry segments.
See below how ASPEKT is presenting themselves: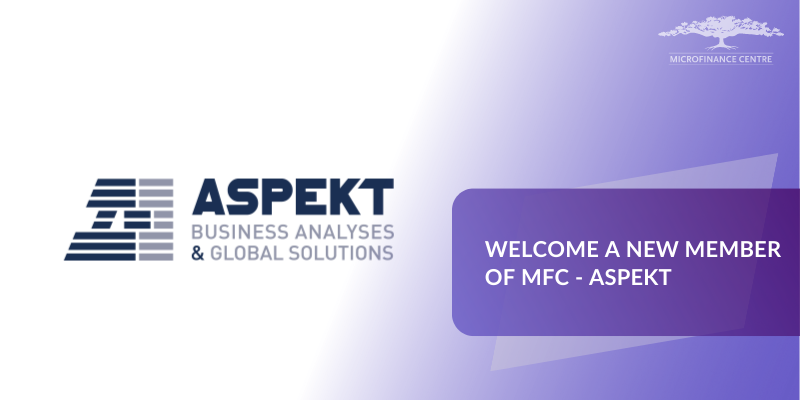 ASPEKT – Who we are
Established in 1992, with expertise in the FinTech world with more than 25 years of experience, ASPEKT is a software development and IT consulting company that delivers  integrated software solutions that benefit all of the institutions in the financial world.
ASPEKT is an innovative company with strong financial market focus, providing software adaptable to local legislation and international financial standards, and all of the benefits can be found under the scope of the Aspekt Product Suite.
What is Aspekt Product Suite?
The Aspekt Product Suite is a process-driven software solution used for operational and digital transformation. Financial institutions of all sizes may undergo change by implementing this software, which adds high service value and financial regulatory compliance. The business processes are mapped to respond to the actual client's needs using the flexible workflow, ensuring ongoing improvements through real-time analysis of performance metrics.
Main Objective :
Continuously improving the customer experience of financial practitioners and creating strong base for workflow digitalization with the Aspekt Product Suite.
Digital transformation changes within the financial industry:
Microfinance Organizations
Banking Institutions
Leasing Companies
Market approach:
Aspekt's client base is constantly growing, with operations in Europe, Asia, and Africa. We are continually looking for new areas where we can help organizations improve the efficiency of their business operations. With a strong industry focus and extensive expertise in software development, we seek to create high-quality software solutions and IT services that suit our clients' individual needs and assist them in achieving strategic goals in cost-effective and efficient ways.
For more info check out the ASPEKT :