We are looking for a well-organized and enthusiastic candidate, willing to contribute to the fair economic system, especially for underprivileged: self-employed, family business owners including those led by migrants and refugees. We seek a team member willing to engage his/her skills, experience and energy to oversee the organization of key MFC events and capacity building activities: the annual physical conference (held usually abroad), virtual learning conference, capacity building webinars, policy roundtables and alike.
Join the MFC Team as Events Manager!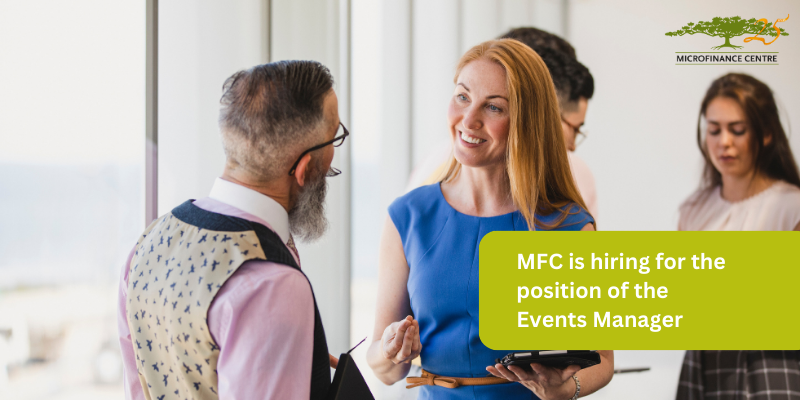 The candidate should be open to work in international environment with peers from Europe and Central Asia, as well as partners from global institutions, international NGOs, social investors, technology providers, representatives of governments, EU-level networks and the European Commission.
Your working language will be English, and you should get ready for a bit of traveling in Europe. You will join a small, but widely recognized organization, with 25 years of experience in making this world a better place for hard working, low income entrepreneurs. 
The detailed responsibilities include:
Coordination of the internal team responsible for creation of the agenda of the MFC annual conference as well as its promotion and communication;
Overseeing the work of the event management company responsible for the event off and on-site logistical handling;
Logistical (and content) organization of other MFC capacity building events including webinars, virtual conferences, workshops as well as policy roundtables including entering relevant contracts with consultants and service providers, sponsors and content partners, if relevant;
Developing event plans and budgets as well as monitoring their execution under the support of MFC Finance and Administration Coordinator as well as MFC Management
Requirements:
Fluency in spoken and written English
Experience in organizing larger conferences (200+ participants) as well as smaller workshops and webinars
Good command of digital tools and services, like virtual conference platforms (for example: Zoom Event, Zoom webinars), Office 365, etc.
Experience in overseeing the work of subcontracted event company
Systematic and very good organization of work
Resistance to stress
Energy and enthusiasm for work
A good command of the Russian language will be an advantage
Experience in organizing EU co-funded events will be an advantage
The position is based at the MFC office in Warsaw, Poland however we are open to work with people from other locations as well, outside Poland. The position provides opportunities to work in the international microfinance community and travel within the region of Europe and Central Asia.  
MFC offers private medical insurance, subsidy for sport activities, additional out-of-office time for self-development (12 days a year) and an annual, performance based bonus. Currently, MFC staff work in a hybrid system combining office and distance work.  
Applications should be sent by email to microfinance@mfc.org.pl. Please add in your e-mail:   "Application for MFC Event Manager position"  
 The closing date for applications is September 24th, 2023. Only the candidates shortlisted for an interview will be contacted.  
Please enclose with your application the Curriculum Vitae.