In December 2021, the Microfinance Centre (MFC) and the UN Refugee Agency (UNHCR) signed a partnership agreement that aims at enhancing refugees' financial inclusion (access to microfinance and business development support).
The joint project will contribute to the improvement of refugees' financial inclusion in Europe, in particular access to micro-finance and business development services, with special focus on building favourable policy environment, raising awareness of the refugees needs for financial services and coordinating stakeholder engagement to address financial services needs
by refugees.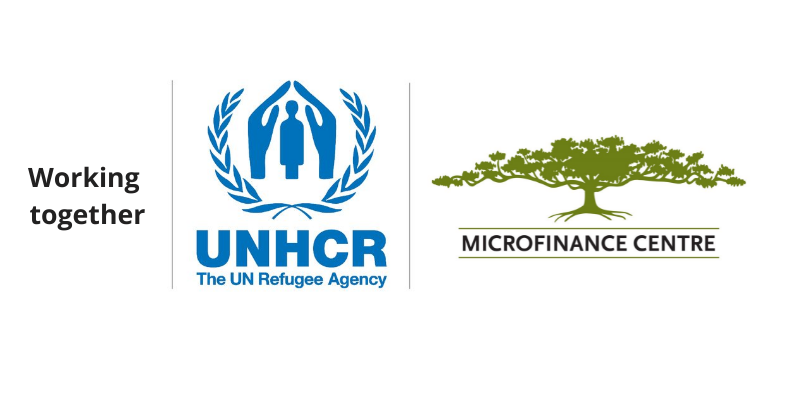 Many refugees have no access to banks and other mainstream financial services. This creates an enormous hurdle on their way to self-reliance and economic inclusion. Because without a bank account, they lack
a safe place to save and receive money, have much fewer options to make payments or access loans. In short, without such services, they can't fully participate in a country's economy or build a stable life for themselves and their families.
The project will create a working group of financial inclusion stakeholders, including regulatory bodies, regional institutions, financial service providers and development actors to find practical solutions for addressing financial inclusion barriers faced by refugees. The working group is expected to continue beyond the duration of this specific project as part of the envisaged long-term partnership between the MFC and UNHCR.
"We are immensely proud to formalize our partnership with UNHCR to address the needs of refugees in Europe for financial services including microfinance. I am very encouraged by our cooperation last year, which already resulted in real help to refugee women in Bulgaria to obtain loans for their income generating activities from MFC member organizations thanks to the UNHCR interventions and support in the country. Therefore, I am extremely happy we can take our cooperation to the next level and help even more refugees in need access microfinance" said Katarzyna Pawlak, MFC's CEO.
"We are extremely pleased with the partnership, that builds upon the excellent cooperation with MFC last year for the financial inclusion workshop in Bulgaria. Taking into consideration the challenges, but also particularly the opportunities, this project will help to raise awareness, to bring new stakeholders on board, and to enhance refugees' effective access to financial services throughout Europe," stated Susanne Klink, the Livelihoods and Economic Inclusion Officer for UNHCR's Bureau for Europe.
MFC, the Microfinance Centre is a social finance network that promotes fairness, inclusion, equality and responsible service. It is a membership-based organisation gathering 95 members (microfinance providers, associations, fintech, and other networks) across 36 countries of Europe, Central Asia, who together deliver responsible microfinance services to almost 2,000,000 low-income clients.
UNHCR, the UN Refugee Agency, is a global organization dedicated to saving lives, protecting rights and building a better future for refugees, forcibly displaced communities and stateless people. UNHCR works to ensure that refugees, as well as vulnerable groups in host communities, have access to affordable and suitable financial services. And that responsible financial service providers are delivering such services. The agency also works to build awareness of the business potential in serving refugees and to overcome policy constraints that hinder refugees' access to financial services.