After more than a decade of a successful partnership, we're proud to welcome Frankfurt School of Finance & Management as new member of the Microfinance Centre. 
Frankfurt School of Finance & Management (Frankfurt School) is one of Europe´s leading business schools and advisory institutes with more than 60 years of experience in providing first-class consulting, qualification and training services in all areas of (digital) banking, finance and management – in Germany and worldwide.
We look forward to continuing our fruitful partnership in more ways!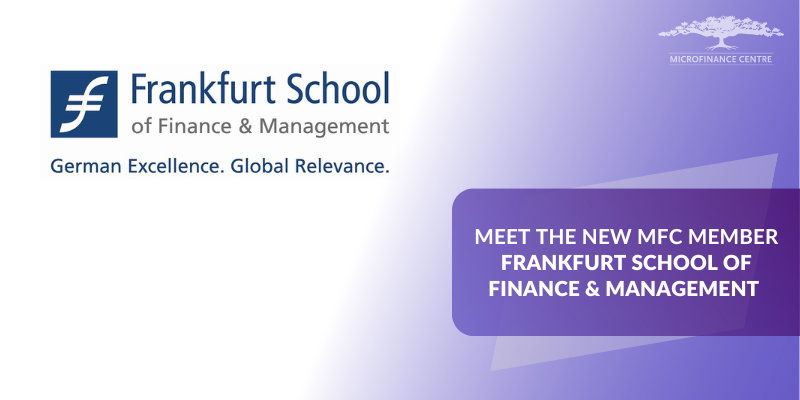 Learn more about the new MFC Member and check how they describe their activities:
Frankfurt School`s International Advisory Services is committed to improving financial markets and to increasing access to financial services. Since starting in advisory activities in 1992, we have successfully designed and implemented over 1,000 development finance projects in 130 countries, promoting technical excellence in all areas of banking and finance. Full-time in-house staff and wide network of associated experts support our clients and partners with tailored and sustainable solutions.
Our partners include international and development finance institutions, bilateral and multilateral donor organisations as well as non-government organisations. Our clients are primarily financial institutions (Development Banks, Banks, MFIs and Social Enterprise Finance providers) and their beneficiaries (MSMEs, low-income populations), regulators, training institutions, investors and other stakeholders of the financial community.
We also work with innovative players such as Fintechs and solar home system providers and partner directly with financial institutions to provide tailored trainings and capacity building services.
In the last 20 years, over 9,000 participants from over 150 countries have joined one or more of our programmes, from one-week Summer Academies in Frankfurt, certification e-Campus programmes, to a full-fledged online programme Master of Leadership in Sustainable Finance.
For more info check out the Frankfurt School of Finance & Management: