Microfinance Centre is delighted to announce that the AFC Agriculture and Finance Consultants GmbH has joined the membership!
AFC Agriculture and Finance Consultants is a Germany based consulting company that offers high-quality advisory services, focusing on agricultural and financial sector development. We look forward to starting working together.
Learn more about the new MFC Member and check how they describe their activities: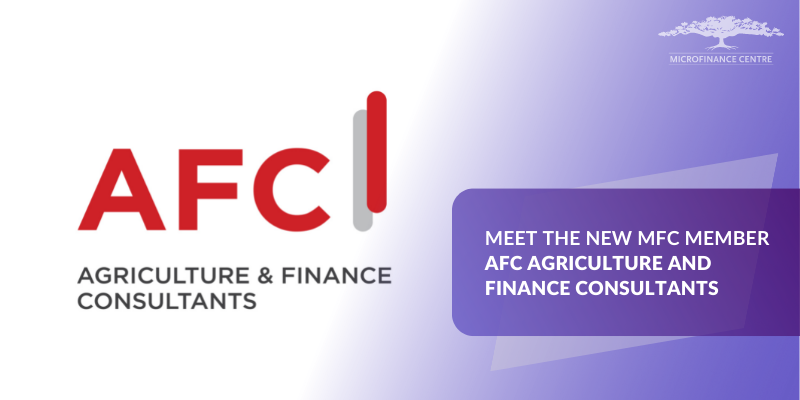 AFC implements projects and studies in developing and transition countries around the world. We are a private German consulting company based in Bonn. As a member of GOPA Consulting Group, Germany's largest group of consulting firms in development cooperation, we benefit from being a member of a major consulting group, which combines various technical specialists under one roof.
Thanks to our in-house experience and the expertise of our multidisciplinary teams, we provide our clients with effective, operational and pragmatic approaches, based on our detailed knowledge of their challenges and local contexts. Our nearly 900 experts currently implement more than 80 ongoing projects, building up local capacities for sustainable development in Africa, Asia, Europe, MENA and Latin America.
Around the globe, AFC's specialised Financial Sector Development team develops tailor-made credit and saving products and establishes appropriate regulation and supervision systems. We advise financial institutions (FIs)— including commercial and central banks, mortgage companies, microfinance and apex institutions— and micro, small and medium enterprises (MSMEs) as well as smallholder farmers, in the following focus areas: Micro and SME Finance, Green Finance, Digital Finance, Agriculture & Value Chain Finance, Financial Sector Regulation and Supervision, Financial Institutions Development, Insurance Systems, Housing Finance, Financial Literacy, and Gender Finance.
For more info check out the AFC Agriculture and Finance Consultants: