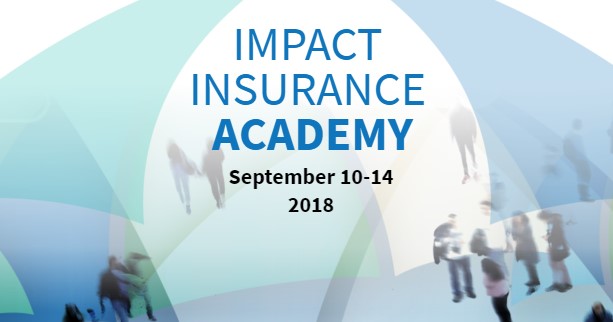 Location: International Training Centre of the ILO, Turin, Italy
Dates: September 10-14, 2018
Deadline for registration: July 20, 2018
The ILO's  Impact Insurance Academy is an intense primer on inclusive insurance, combining plenary discussions with elective workshops, peer-assist sessions, real case studies and plenty of networking opportunities. It is particularly relevant for insurance professionals who are interested in learning more about how the insurance industry can contribute to economic and social development.
Target audience
The Impact Insurance Academy targets mid-to senior-level insurance practitioners exploring and setting up inclusive insurance programmes in their organizations. Regulatory and supervisory authorities willing to support inclusive and responsible insurance in their countries are also invited to attend. The Academy is also tailored for financial institutions or other distributors that are interested in inclusive insurance. It is useful for development practitioners, funding agencies and technical assistance providers supporting projects in this field.
It also could be beneficial for distribution channels, like banks, microfinance institutions, cooperatives and mobile network operators, that are looking to introduce or improve their insurance offering.
The Academy provides
Cutting-edge topics presented and discussed in a series of classes facilitated by the ILO and partners' experts and resource persons
A range of elective workshops offering insight into specific subjects, testing tools and training packages
Opportunities to present the work that you are doing and discuss with it with experts
A peer-assist session and space for receiving a structured feedback to shape your project
Structured knowledge-sharing sessions with an application of interactive learning methodologies
Case-studies and examples from the world's leading impact insurance providers
Fees:
• Tuition fee: 1600 EUR
• Subsistence fee: 615 EUR 
Total cost: 2215 EUR