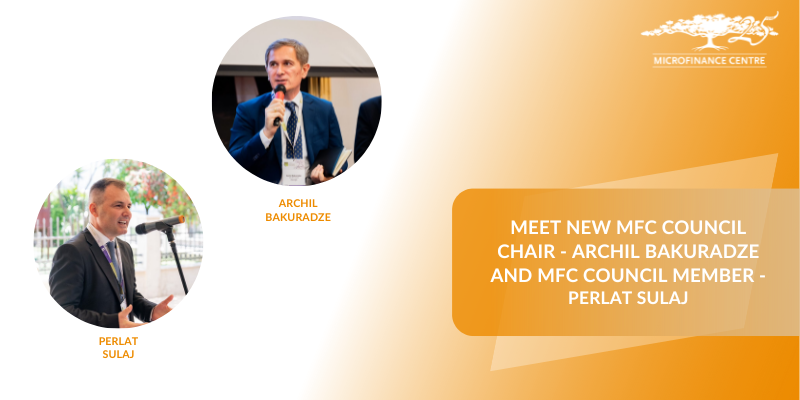 During the Membership Meeting at the 25 th MFC Annual Conference: Thriving Together. Silver Jubilee MFC Council went through important changes!
After a year of great service as Council Chair, Brunilda Isaj left and Archil Bakuradze was appointed in Brunilda's place. We take this opportunity to thank Brunilda for her leadership and indispensable support to MFC and its members.
Archil sums up recent changes in these words: "I am truly honored to assume the role of Chair of the Council of MFC, an exceptional organization that has diligently championed the cause of microfinance, impact, and social finance in our region for the past 25 years. It is inspiring to witness the solid groundwork laid by MFC, its principles that remain as pertinent as ever, and the unwavering dedication and bravery of its exceptional management and team. I extend my heartfelt gratitude to my esteemed colleagues on the Council for their trust and eagerly anticipate our collective efforts in furthering the success of MFC".
What is more, we happily announce that the MFC Council has a newly elected member Perlat Sulaj, CEO of the Savings and Credit Association FED Invest. Perlat holds an MBA from the University of Nebraska and a graduate degree in Mathematics from University of Tirana. His areas of expertise encompass financial and risk management, organizational development, microfinance and SME credit management, product development, and relationship management with donors and lenders. Quoting Mother Teresa's sentence: "Not of all of us can do great things. But we can do small things with great love", Perlat emphasizes the importance of affection toward important causes, like financial inclusion, social economy, and microfinance.
Katarzyna Pawlak, MFC Executive Director expresses her joy to have such experienced professionals in MFC Council and believes that with newly appointed and elected Council Members, MFC can advance microfinance and social economy sector even more.