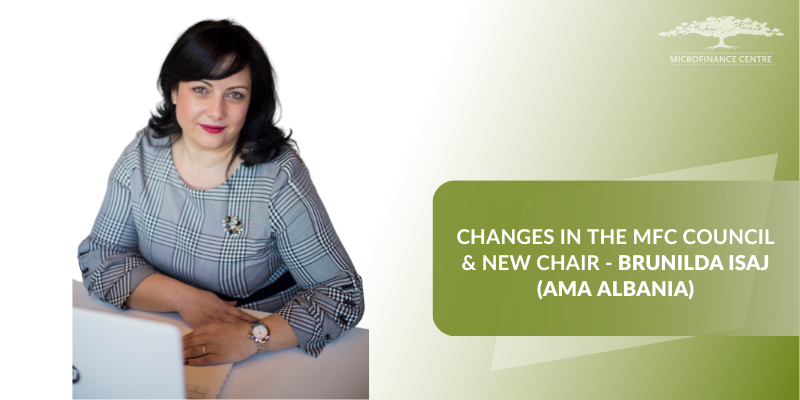 In July the MFC Council went through important changes. Sanavbar Sharipova, MFC Council Chair left after 2 terms and 6 years of service. Paul Kalinauckas, the MFC Council Vice Chair and the Governance Committee Chair resigned after serving on the Council since May 2018. The Council Members have appointed Brunilda Isaj as the new Chair.  She took up her duties starting 1st July 2022.
"We would like to take this opportunity and express our appreciation to Sanavbar and Paul who guided Microfinance Centre through a very challenging time – the pandemic and now the war in Ukraine. They are leaving an organization that is in a great shape and hands with a dedicated Council, enthusiastic management and committed staff" stated Ewa Bańkowska, MFC Deputy Director.
The newly elected MFC Council Chair Brunilda Isaj is a senior financial expert with an excellent track record in consumer finance, microfinance, retail and commercial banking. She has extensive expertise in financial systems, financial markets, financial products and instruments. She is also an independent financial advisor and entrepreneur.
"Together with the MFC Council Members and staff, we are thrilled to announce the nomination of new Council Chair, Brunilda Isaj. Brunilda has a vast background in microfinance, both as a practitioner in Albania and through her experience as an active leader of the Albanian Microfinance Association. Her proven skills in promoting and providing solutions to sector issues while at the same time successfully coordinating capacity building and experience sharing make her the ideal candidate to take on the responsibilities of MFC Council Chair and to further grow and position the network in the coming years with the support of the MFC staff, Council, and its valuable members across Europe and Central Asia" said MFC Executive Director Katarzyna Pawlak.