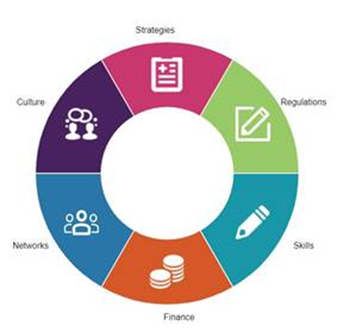 The Better Entrepreneurship Policy Tool is an online tool designed for policy-makers and other interested parties at local, regional and national level who wish to explore how public policy can support social entrepreneurship, as well as entrepreneurship by people from under-represented groups.
Policy-makers and other stakeholders can take a short survey assessing their policy ecosystem. Its results will guide them to relevant material, including best practices. Users can invite other relevant stakeholders to take the same survey, triggering discussion and possibly policy action.
The tool is now accessible at https://betterentrepreneurship.eu and will soon be available in all 24 official EU languages.
The Better Entrepreneurship Policy Tool is prepared by The European Commission and the Organisation for Economic Co-operation and Development (OECD).
Inclusive entrepreneurship
Inclusive entrepreneurship contributes to social inclusion and gives all people an equal opportunity to start up and operate businesses. Here you can assess policies and programmes that help women, youth, migrants and unemployed people with business creation and self-employment. Read more
Social entrepreneurship
Social entrepreneurship focuses on social enterprises, which are businesses that aim to have an explicit social impact through their economic activities. Here you can assess to what extent current policies and initiatives help these types of businesses to start-up and scale-up. Read more
Source: betterentrepreneurship.eu