We are pleased to welcome and introduce three new MFC members:

Ard Credit NBFI JSC is a publicly listed non-bank finance company, licensed by the FRC. It is a flagship of Ard Financial Group – a full-service financial holding company. Ard Credit was set up in April 2011 with the goal of providing access to inclusive financial services to Mongolians by leveraging the potential of innovative technologies. Ard Credit's IPO in March of 2019 was 3 times oversubscribed.
Ard Credit offers a range of financial products and services to its customers through its proprietary mobile wallet. Ard App features self-enrollment, AI backed credit scoring, a unique loyalty point system based on blockchain technology and a powerful cross-selling platform for e-commerce, insurance, brokerage and payments services.
Ard Credit is owned by 1,500 individual shareholders, has 120,000 customers and over 10,000 borrowers as of the end of April, 2019.

The First MicroFinance Company CJSC is a microfinance organisation from Kyrgyzstan wholly owned by the Aga Khan Agency for Microfinance (AKAM), a Foundation incorporated in Geneva, Switzerland.
FMFC currently operates 14 branches, 10 in Osh oblast, 3 in Naryn oblast and 1 branch in Bishkek city. By 2017, First MicroFinance Company have grown into the largest micro finance institution in the southern part of Kyrgyzstan. The company provides services to over 17,000 customers, 90% of which are clients from rural areas. Loans are issued for the development of such strategic areas for the country as animal husbandry and agriculture, trade, small and medium business, housing improvement and education.
The First MicroFinance Company's (FMFC) vision is to reduce poverty, diminish vulnerability of poor populations and alleviate economic and social exclusion.
The mission of First MicroFinance company is to improve the quality of life of the people by helping them to improve their incomes, become self-reliant and gain skills needed to graduate into the national financial market.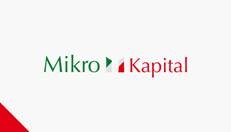 Mikro Kapital JSC, a leading business lender from Russia, is a part of Mikro Kapital Group, global holding company, uniting financial institutions in Italy, Switzerland, Luxemburg, Armenia, Russia, Belarus, Romania, Moldova, Tajikistan and other countries. The group was founded in 2008, and as of December 31, 2018, the Group had total assets under management of EUR 450 mln.
Today the company has an experienced international management team, combined with local expertise. The aim of the company is to provide financial flows for micro-entrepreneurs as well as small and medium enterprises (SMEs). It is ranked as a leader among microfinance institutions (MFIs), based on the ratio of 2018 portfolio dynamics, and is in the top three MFIs issuing secured loans in Russia. It is regulated and licensed by the Central Bank of Russia.