We are pleased to introduce our latest MFC Member: Fram Fintech Solutions, a UX design and digital marketing company focused on financial sector. Fram Fintech Solutions' mission is to help financial companies improve the usability and design of their products, leading to higher profits for their business.
Have you notised the Microfinance Centre's new website design, launched late last year? We love it because it is clearer, easier to navigate and has a fresh modern feel. Well, did you know that the design was prepared by Fram Fintech Solutions? They've been working hard to support the MFC on branding and design issues, and we're proud of what we've accomplished together.
Check out this interview with Marina Shideroff, Fram Fintech Solution's Founder and Chief Design Officer about key trends that financial institutions should consider if they want to remain relevant in years to come.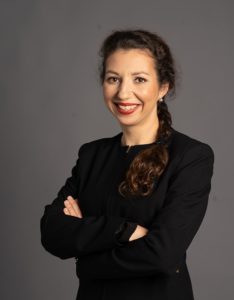 MFC: Fram's journey started just a couple of years ago, yet, the company has more than a 100 customers already. Can you tell us more about the way you achieved this remarkable growth?
Marina: Well, I can firmly say that hard work does pay off. Everyone at our office went through hundreds of creative brainstorming sessions, many late nights, and countless cups of coffee but ultimately we managed to put Fram on the road to success. Besides our team's extraordinary effort, another factor that played a key role in our growth was that we forged partnerships with software development companies and trade associations, which allowed us to quickly expand our service portfolio and reach many new customers.
MFC: In recent times you guys have been focusing more and more on the Finance industry. What trends pushed you to head in this direction?
Marina: It all comes down to the fact that thousands of finance-related companies appeared since the beginning of the century and customers have more freedom to choose than ever before.
As a result User Experience & Innovation become central to the strategy of any financial institution which wishes to remain relevant in the years to come. So, let's spend 2 minutes talking about the main trends FIs should consider:
1) Customer nowadays expect every interaction with a financial institution to be simple and easy – you open an app on your phone, and in less than a minute you have made the money transfer you wanted to make; When people need information about loans they'd rather have a quick conversation with a chatbot than spending hours to visit the local branch of the organization or searching for relevant information all over a website.
2) Having mentioned chatbots, here is trend number 2 – personalization. Nobody wants irrelevant answers and offerings anymore. Besides chatbots predictive analytics are very important here. With their help you get to know what customer want before they know they want it and of course, we are talking about the creation of personalized scenarios and user flows for every big customer segment you would have.
3) A financial institution should be available anywhere and anytime, that's what's called the omni-channel experience – web, mobile, phone, social media
MFC: What services can Fram offer to Financial Institutions?
Marina: In terms of UX, we offer design of mobile and web apps, accompanied by user research, information architecture, and user testing. Fram can also assist with the re-design of existing apps for an increase in usability and customer satisfaction. We have experience with payment systems, chatbots, data visualization, blockchain wallets and many others.
Apart from that, Fram can provide Graphic Design and Branding solutions – logos,infographics, landing pages, white papers, presentations, and social media banners.