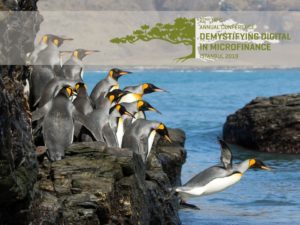 BREAKING NEWS :: 1 APRIL 2019 :: FOR IMMEDIATE RELEASE
We are delighted to confirm the participation in the MFC Annual Conference 2019 of an official delegation of penguins representing microlenders in the Arctic Fauna Marketplace (AMF). Their stated goal in attending the conference is to present lessons learned from working in a fast-changing environment, discussing the role of microfinance in tackling climate issues, and networking to find new opportunities for inter-species collaboration. In honor of this historic visit we would ask that you adhere to a strict black-tie dress code throughout the event.
We have received word that the Penguin Delegation (PD) is already en route to the event, and will arrive in time for the conference opening on 30 May 2019. Don't miss this opportunity to tap into their unique insights and experiences—register for MFC Conference 2019 now. Early bird registration closes today!
Keep up to date about the latest event news via conference website, Facebook event or LinkedIn and Twitter using #2019MFC.