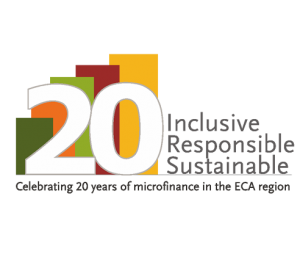 20th MFC Annual Conference
Horizon 2037: Fair finance for all
24-26 May 2017, Sarajevo
Join us for our landmark annual conference in Sarajevo! Registration opens on 20 February 2017, and early-bird registration closes on 28 April 2017.
In June in Tirana, and over the course of our country meetings, we've heard a great range of your excellent suggestions for discussion topics to include in our 20th anniversary conference agenda. Thank you so much! You can view the current list here
If you've not yet had the chance to offer your feedback, now is your chance! Tell us:
What issues and topics should we discuss during our workshops and panels at the MFC conference in Sarajevo?
Are you (or any other representative of you organization) interested in presenting your experience as a workshop panelist?
Each year, we do our best to accommodate the large number of speaker nominations that we receive, in order to bring you a variety of perspectives and experiences.
Please send your suggestions to microfinance[at]mfc.org.pl by 30 November 2016.
And last but not least… next year we're celebrating not one, but two key anniversaries: the 20th anniversary of the MFC Network, and the 20th anniversary of the ECA microfinance sector. How are you planning on marking these two milestones? What events and initiatives have you planned? We'd love to know! Send us your news at: microfinance[at]mfc.org.pl