Last #DigLit semester was pretty intensive for the Bootcamp adepts. We are not slowing down though – each Tuesday this fall, as usual at 11:00 CET you will have an opportunity to learn about indispensable digital solutions for MFIs. The webinars are free of charge and are conducted by experts in their fields. Here you will find everything you need to know about this project..!
Tens of successful and widely attended webinars along with their recordings available to watch at any time. To facilitate the learning process and to motivate you even more, we have introduced the certification procedure. If some of the tracks have interested you particularly, why don't you watch the corresponding videos, take our quiz tests and receive a dedicated certificate? Worth giving a try! If you have any questions regarding the certification, write an e-mail to Ewa Bańkowska [ewa@mfc.org.pl].
The webinar organization wouldn't be possible without the kind financial support from our founders : EIB Insitute, EFSE Development Facility and European Commission. Thank you!
In September & October we will concentrate on three areas of digitalization: Fintech and Artificial Intelligence (AI) solutions in finance and insurance, solutions of Marketing Automation, we will also see an example of a successful mobile application implementation.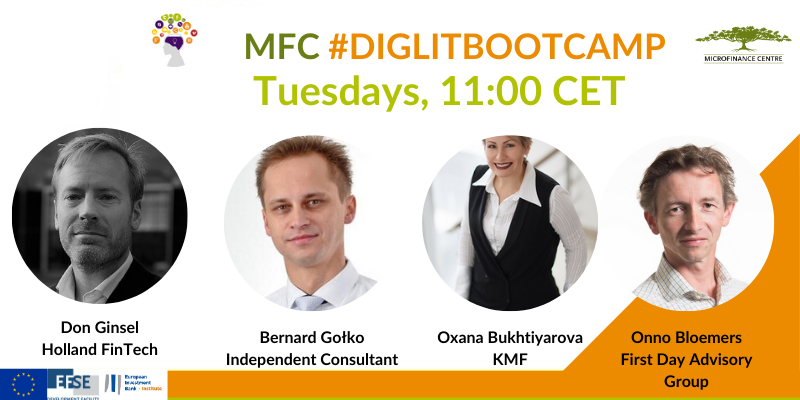 Experts from Holland FinTech: Don Ginsel and Onno Bloemers will share with you their expertise on InsurTech and AI – they work daily with innovative financial systems and networks, it is truly worth checking, if you seriously think of introducing some of the newest solutions in your MFI.
8 September |  InsurTech for Microfinance | [CLICK] [later under this link the webinar recording will be available]
The increased availability of data and the lower costs of digital distribution enables new, affordable insurance and risk management solutions to be created that contribute to closing existing protection gaps. This webinar will provide you with an overview of trends & developments in the global Insurtech ecosystem. New innovative insurance solutions like on demand, parametric, inclusive or micro-insurance products will be introduced, and we will explore how these new concepts are of value to microfinance institutions.
15 September | Artificial Intelligence State of Tech | [CLICK] [later under this link the webinar recording will be available]
The webinar explores the state of tech and importance of Artificial Intelligence for finance. We are reviewing all the elements of AI landscape, providing examples from financial sector. We are touching upon machine learning, block chains, and all sorts of algorithms leading to automating credit scoring or fraud detection, and more.
6 October | Artificial Intelligence for Microfinance | [CLICK][later under this link the webinar recording will be available]
Having introduced the AI landscape in finance in the previous webinar, on September 15th, in this webinar we are focusing on two examples of players from financial sector, applying AI in their daily operations. We are studying what, how and with whom they have implemented. MFIs will understand, what are the conditions to consider AI solutions, how much does it cost to implement and maintain it.
Oxana Bukhtiyarova from KMF in Kazakhstan will share this MFI's experience on introducing successfully a mobile app in their operations. First-hand experience you cannot miss!
22 September | Mobile only loan process – KMF experience | [CLICK][later under this link the webinar recording will be available]
During the webinar, KMF will share its experience in designing and implementing their mobile app. They will talk about client mobile identification, mobile scoring, as well as successes and challenges related to implementation of the app at the client and staff level.
Bernard Gołko will tell you everything about automating your marketing processes, and DPMs – in other words Data Management Platforms – take a look!
29 September | Marketing automation in MFIs | REGISTER NOW [later under this link the webinar recording will be available]
Marketing automation helps MFIs cost-effectively manage the relationship with various types of clients – those, that only visited your online channels, those, that are about to repay the last installment, those inactive for a longer period of time. The webinar discusses variety of solutions available to any type of MFI (no matter the size) as well as practical considerations for MFIs – the resources and technology conditions needed to apply marketing automation.
13 October | Introduction to Data Management Platforms | REGISTER NOW [later under this link the webinar recording will be available]
Data Management Platforms (DMPs) are the new type of supplier for MFIs expanding the digital marketing. This webinar introduces the topic – we are discussing the type of data offered to MFIs by DMPs and the ways to use the data. We are also defining who, when and how should contract DMPs, and what are the key tips and rules for MFIs to apply while planning to use the services of DMPs.
See other webinars of the series
This webinar is financially supported by:
This webinar has received financial support from the European Union Programme for Employment and Social Innovation "EaSI" (2014-2020). For further information please consult: http://ec.europa.eu/social/easi
The information contained in this webinar does not necessarily reflect the official position of the European Commission.